This article provides information on using the Pitchero Club app.
Quick links:
Overview
Find your club on the new Pitchero Club App and you'll never miss a thing, from the latest results, league tables and team chat!
Whether you are a player, parent, coach or a supporter, the Pitchero Club App has everything you need to follow your club on the go.
Who can use the app?
Everyone using the Pitchero Club App can use it to stay up to date with their favourite teams and if you're a player you can use it to provide teams with your availability!
All you need is a Pitchero account connected to your Club.
Download the app
Download the free Pitchero Club App on both Android and iOS devices.
Once you have the app you can log in or register to access your Club.
Top tip:
Enable automatic updates to keep the app up to date to ensure that you have access to all the latest features!
Log in to the app
Step-by-step guide:
Open the Pitchero Club App
Tap 'Sign in'
Enter your email address & password
Tap 'Sign in'
If you're struggling to log in to your account click here for guidance.
Sign in with Apple
Existing members can also sign in to their Pitchero account using their Apple ID. This should only be used if the email registered to Pitchero is the same one registered with your Apple account.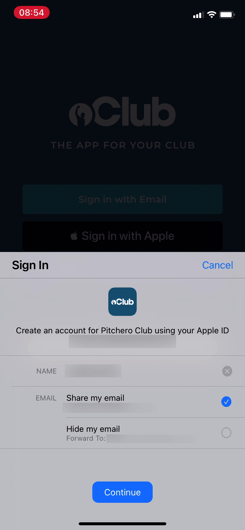 If you select 'Hide my email', the app will not recognise your existing Pitchero account and instead create a new account using an @privatelay.appleid.com address.
As it will be a separate account, it will not have your existing membership information, messages, and schedule with the club.
If your account is in this situation, you should log out of that account and then log back in using your email address.
Related articles
You may also find the following articles helpful:
Contact support
If you have any questions on using the Club app, you can contact our dedicated support team via the form below.
When contacting support, it's important that you provide as much relevant information (including steps taken, links and screenshots to relevant pages) so we can help to resolve the query as quickly as possible for you.