Welcome to PitcheroGPS! Here's a list of everything you'll find included in your new kit.
Quick links: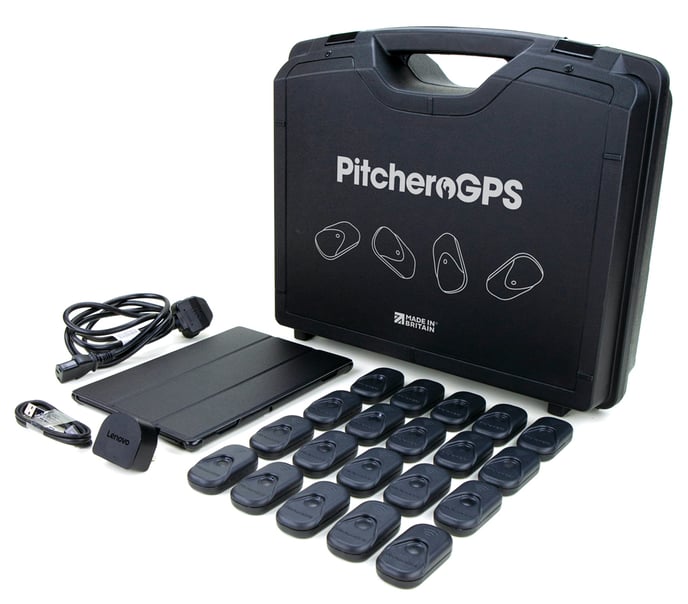 PitcheroGPS Trackers
Your trackers allow you to monitor individual players' key performance metrics from both training sessions and matches. Use this data to analyse player strengths, key areas for improvement, manage injuries and develop your team's success on the field.
PitcheroGPS Charging Case
The Pitchero GPS charging case can be used to store, charge and transport up to 20 trackers at once. There's also a compartment to house your coach's tablet.
Coach's Tablet
Use your coach's tablet to access the PitcheroGPS Team app and upload tracker data from new training sessions and matches.
PitcheroGPS Vests
The comfortable and durable PitcheroGPS vests come in various sizes with a pouch to hold the tracker whilst athletes carry out their session.
Quick Start Guide
Streamlined instructions to help get you and your team up and running with your PitcheroGPS kit. A fully detailed coaches manual can be found in the Web Application.
Related articles
Thanks for taking a look at this article, we hope you found it useful.
You may also find these related articles of interest too:
Contact support
If you have any questions regarding logging into your PitcheroGPS account in the web app, you can contact our dedicated support team via the form below.
When contacting support, it's important that you provide as much relevant information (including steps taken, links, and screenshots to relevant pages) so we can help to resolve the query as quickly as possible for you.